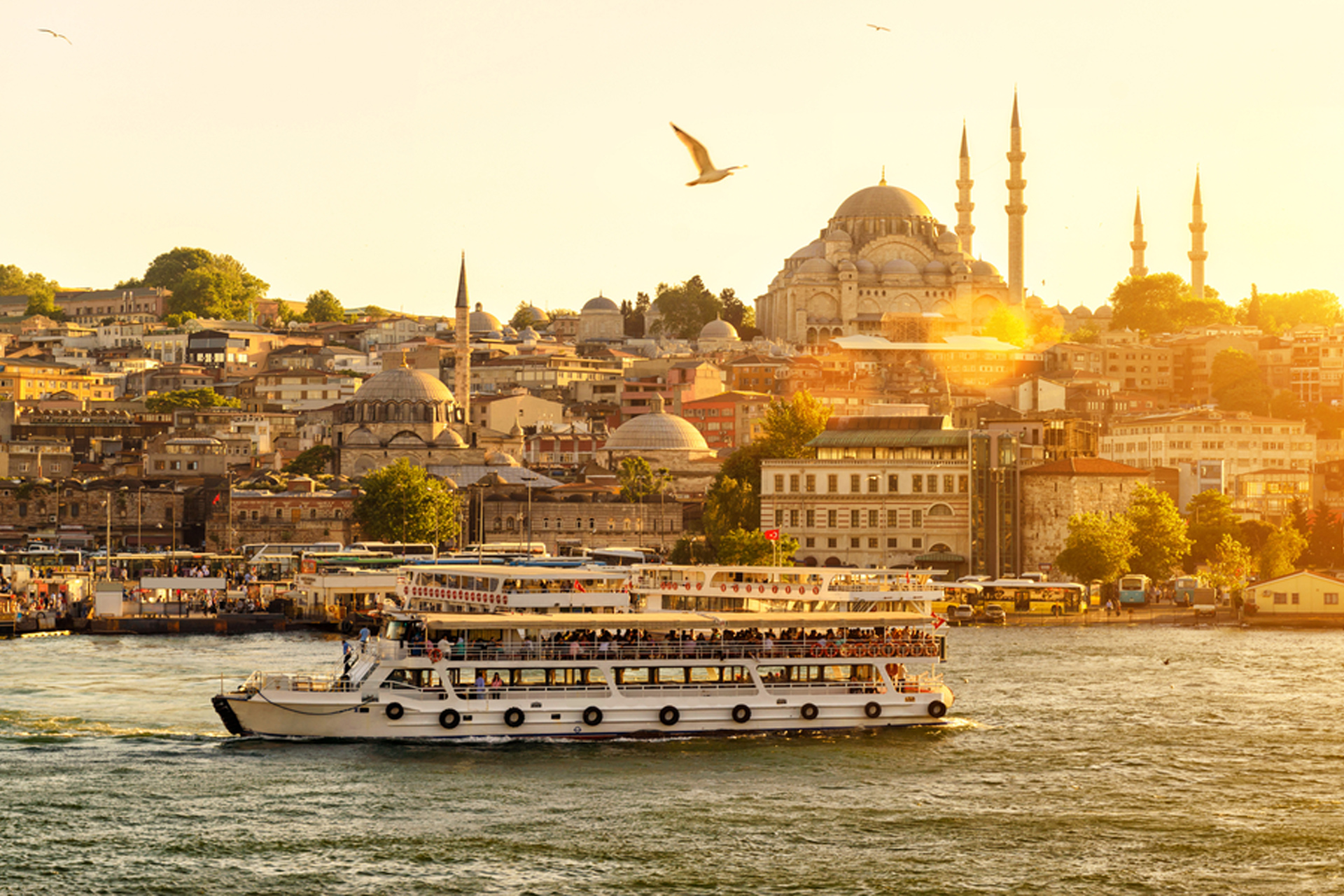 Istanbul is the ancient Roman capital of Constantinople, Istanbul is a unique city of its kind. Straddling Asia and Europe, it embodies the collision of these two continents and cultures. This major Turkish city is known for its diverse history, where ancient civilizations ranging from the Greeks, Persians, Romans, Venetians and Ottomans have left their influences on today's Istanbul; and it was once a key stop on the Silk Road.
One of the world's largest cities by population, Istanbul lies on the Bosphorus Strait and is home to a brilliant array of historic buildings, diverse neighborhoods and dizzying bazaars. A trip to Istanbul offers countless unique experiences: shopping in the Grand Bazaar, the largest and oldest in the world; taking a scenic cruise along the Bosphorus; and admiring the centuries-old Byzantine frescoes in the city's oldest churches.
Esta ciudad única no defraudará al viajero hambriento de cultura y de rica gastronomía. No se puede imaginar un viaje a Estambul sin pensar en la deliciosa cocina que ofrece. Además de los deliciosos kebabs, mezze y cálidas tazas de cafés turcos, los sabores clásicos de Estambul, sin mencionar el aroma afrutado de la shisha, también se puede descubrir la diversidad cultural de la ciudad en su cocina. Casi todos los rincones del mundo y sus manjares están representados en Estambul.
¿Qué ver en Estambul?
There's a long list of things to see in Istanbul, and something to pique the interest of any type of traveler, whether you're a food enthusiast, culture junkie or history buff. The Hagia Sophia ranks high on the list of places to see in Istanbul, thanks to its long and complex history. It is undoubtedly one of the most famous places of worship in the world.
Originally a church, then converted into a mosque and today a fascinating museum, the Hagia Sophia is the epitome of Byzantine architecture and easily identifiable by its massive dome and minarets. A stone's throw away is another unmissable icon of the city and a must-see on a tour of Istanbul, the Blue Mosque. With 13 domes and 6 minarets, it is an impressive structure dating back to the early 17th century.
La mezquita continúa abriendo sus puertas a los fieles hoy y su nombre común proviene de su deslumbrante exterior azul, un tema que continúa dentro de los azulejos decorativos pintados a mano que adornan el interior.
Another of Istanbul's treasures and cultural gems is the Topkapi Palace, once home to the Ottoman elite and today a major museum.
A guided tour is the best way to discover the fascinating history of this Ottoman landmark. Set in a large complex, its interior features elaborate gilded decorations, while the exterior is home to manicured gardens. The palace's hillside location guarantees beautiful photo opportunities and panoramic views of the city.
If you want to discover the daily life of the city, there is no better place to immerse yourself in Turkey's Ottoman era than in the Grand Bazaar.
With more than 4,000 stores, it attracts up to half a million visitors per day. An extensive indoor shopping paradise, it's easy to get lost, but that's part of the experience. Be sure to stop for tea at one of the bazaar's cafes to people-watch and get bargaining tips.